Ethics and the

    Columbia River Treaty

    Righting Historic Wrongs

-

     The Rev. Martin Wells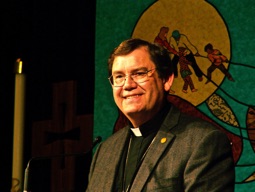 Rev. Martin Wells was born in Greeley, CO in 1949, the son of Les and Edith Wells, both teachers and public school administrators.  The family moved to Anchorage, AK in 1960 and joined Hope Lutheran Church.  Martin graduated from West Anchorage High in 1967 and attended the University of Denver where, in 1971, he was awarded a Bachelor of Science in Business Administration.  After a two-year hiatus Martin enrolled in the University of Puget Sound Law School where he was awarded a Juris Doctor degree in 1976.  He passed the bar exam in Alaska that summer.
Having sensed a call to ministry, Martin enrolled at Pacific Lutheran Theological Seminary in Berkeley, CA.  His internship was served at the Washington Corrections Center in Shelton, WA.  In 1979 Martin married Susan Briehl (M.Div, PLTS, 1981) and, after a year working at Pacific Lutheran University, completed seminary in 1981.  He was ordained into The American Lutheran Church (ALC) in November 1981.

Susan and Martin shared one full time call to Our Saviour's Lutheran Church, Bellingham, WA, from 1982-1986.  Their two daughters, Mary Emily and Magdalena, were born in Bellingham.  From 1986-1994 Martin and Susan served with Pr. Dan Erlander as University Pastors at Pacific Lutheran University, Tacoma, WA.  In 1994 Martin and Susan were called to the position of Executive Director, Holden Village, with partner Janet Grant.  Martin was elected Bishop of the Eastern Washington-Idaho Synod, ELCA, in June 1999. After three terms Martin retired as a Lutheran pastor in August of 2017.   Martin and Susan reside in Spokane, WA, where Martin's interests include cooking, reading, bonsai trees, and the Great Lake Missoula Ice-Age Floods.

Email:     Msmmwells@aol.com