Ethics and the

    Columbia River Treaty

    Righting Historic Wrongs

-

     Emma Johnson

     Cowlitz Indian Tribe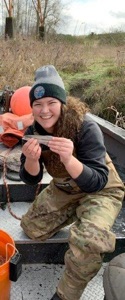 Emma Johnson, a Cowlitz Tribal member received her BA in Cultural Anthropology from Washington State University Vancouver.
Emma began her work experience with the Tribe in spring of 2017 when she started an internship in both the Cultural and Natural Resources Departments. Upon completing a Udall Internship in Washington D.C. summer of 2019, she secured a position in the Culture Department as a Tribal Historic Preservation Assistant.

Emma is a proud Cowlitz member and strives to develop better access to Cultural Resources for all Native peoples.