Background to the Upcoming Jury Trial: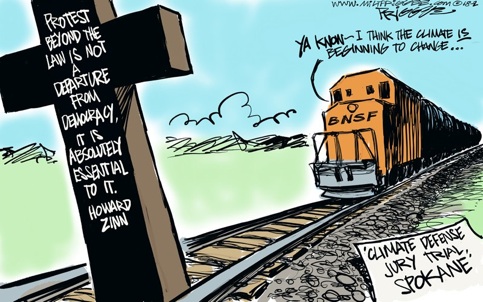 Human caused climate change is expected to unleash even more erratic and devastating climate events such as the extreme wildfires experienced in the West, devastating hurricanes that hit Texas, Florida, and Puerto Rico in 2017, and "bomb cyclone" that hammered the East coast in 2018.
Because of the lack of any real response to combat climate change, since it was first identified some 40 year ago, The Rev. George Taylor, in September 2016, was joined by fellow Veterans for Peace members Maevea Aeolus and Rusty Nelson in blocking coal and oil trains from passing through Spokane. Their action followed in the footsteps of the Raging Grannies Margie Heller, Nancy Nelson and Deena Romoff who blockaded coal and oil trains in August 2016. Though the others are no longer facing charges of trespassing and obstructing a train, they continue to stand in solidarity with Rev. Taylor.  Veterans for Peace stand in solidarity with The Rev. George Taylor.

The upcoming trial of Rev. Taylor is significant for the sake of the planet and for others who take clear and just actions to protect the planet under what is known as a climate necessity defense.

The use of the climate necessity defense comes from the basis that taking such action, as Reverend Taylor did:

1.meant avoiding a significantly greater harm by breaking the law; 

2.no legal alternatives to breaking the law were available; 

3.the defendant was in imminent danger of physical harm; and

4.there was a direct causal relationship between breaking the law and preventing the harm. 

Over the summer of 2017 Judge Debra Hayes from the Spokane District Court heard testimony from three expert witnesses on safety, climate change, and civil disobedience, and from the defendant, Rev. Taylor, that the reverend's actions to block coal and oil trains was necessary to combat climate change, ensure public safety, and that direct action was warranted because legal alternatives did not exist to deal with the imminent harm of coal and oil trains passing through Spokane.

In October 2017 Judge Hayes granted the climate necessity defense in Reverend Taylor's upcoming trial.

The trial is scheduled for April 23-24 in Spokane.